Any road trip itinerary list would be incomplete without involving a trip to the majestic Himalayas in the north. The Mughal Road, a historically significant and picturesque road of the country, makes for a must in this list. The 330 km of panoramic picturesque stretch runs through the verdant valleys of Kashmir, with the towering snow-capped peaks against the azure blue skies, as the backdrop. This particular road trip is that quintessence beauty of a little bit of heaven and wild served together. Get lost in the majestic vistas of Kashmir with steep serpentine curvy roadways, ample apple orchards and gurgling waterfalls and rivulets that come along.
Located in the Pir Panjal Range in Jammu and Kashmir, the Pir Panjal Pass also called Peer Ki Gali (or Peer Gali), is a mountain pass and a tourist destination. It connects the Kashmir Valley through the 'Mughal Road' to the Rajouri and Poonch districts. At 3,490 m (11,450 ft), it is the highest point on the Mughal Road and lies southwest of the Kashmir Valley.
Historian Mohibbul Hasan states that the Pir Panjal Pass was one of the main passes into the Kashmir Valley and exercised a great influence on its history. A route linking Hirapur (modern Hirpora) in the Kashmir Valley with Rajauri via the pass is known to have been used from ancient times. During the period of the sultans, it seems to have been extended up to Bhimber.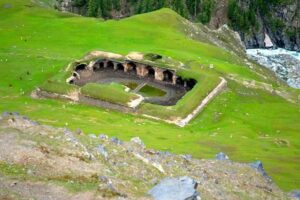 Aliabad Sarai is a historic resting place in the Pir Panjal Pass, said to have been built by the Emperor Jahangir towards the end of the 16th century. It was one of the 14 stops built between Lahore and Srinagar along the Mughal Road. An Iranian engineer named Ali Mardan Khan was in charge of the construction, with the assistance of local chieftains.